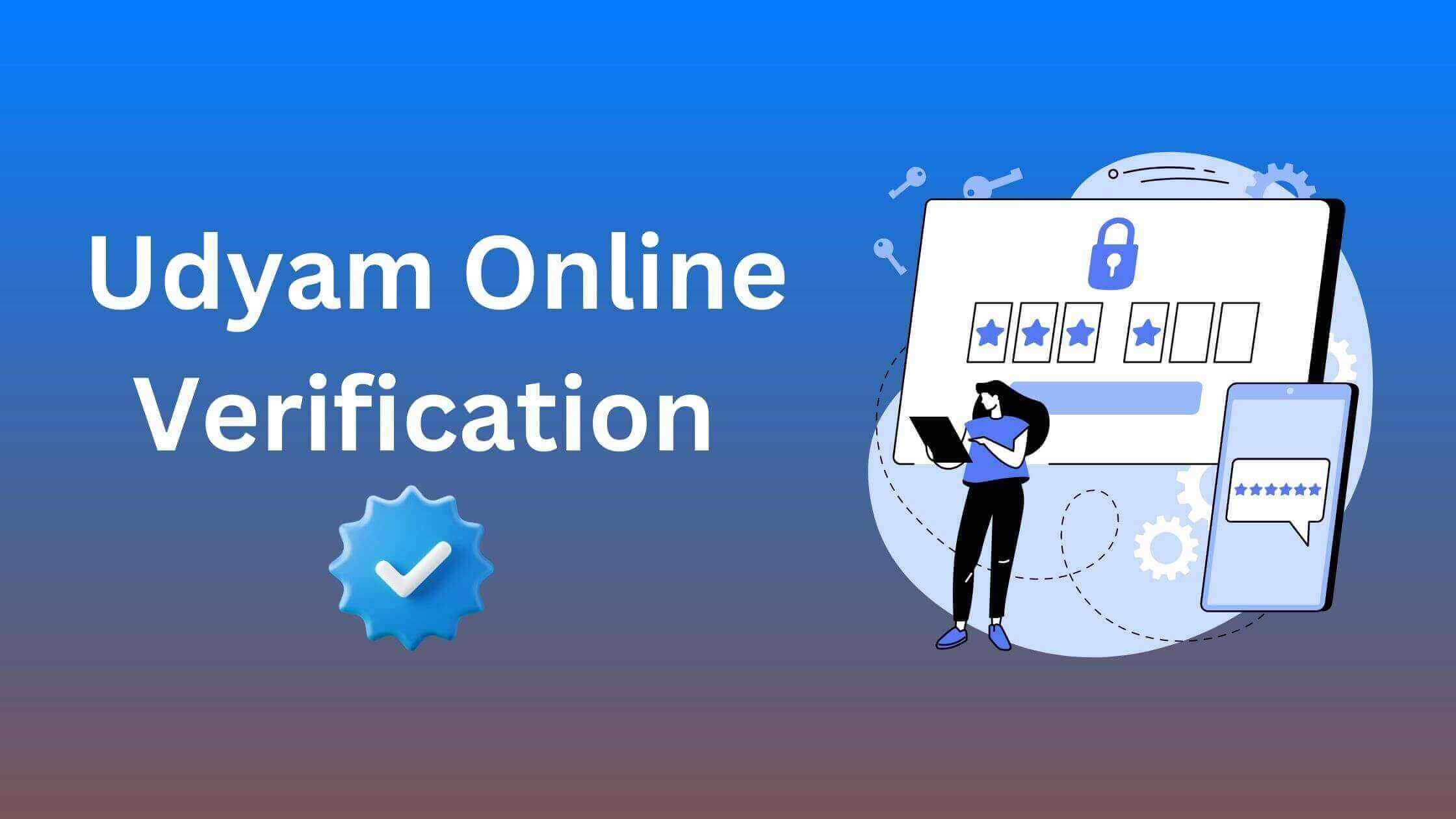 Udyam Online Verification | Online Process to Verify Udyam Certificate
In our Udyam Verification Portal, we have announced a new option to verify your Udyam Registration Certificate. For each business owner, this update is made so that they do not find any difficulty with their verification process. Read further to know about the registration status checks online for the Udyam certificate.
On 1st July 2020 (Friday), the government introduced new criteria to encourage new companies to build their business.
What is Udyam Verification?
Udyam verification is a process to prove that you are a legal member of Udyam MSME. A person who wants to build up a micro, small, and medium enterprise can file online verification for udyam.
Documents for Udyam Online Verification
You must have a legal business to apply for Udyam verification.
Aadhar card details are required for applying in the verification process.
UAN/ URN Number will be needed if you are already a member of Udyam.
Process of Udyam Verification
Go to our udyamregistrations.org web portal and find the Udyam verification section.
If you are first-time login to Udyam then you need your aadhar number and aadhar name to apply for Udyam verification.
And if you are already a registered member of Udyam then enter your UAM/ URN Number and registered mobile number. Generate to receive OTP and get your verification done.
Note: Only the registered mobile number will be accepted through which you have completed your registration process.
Udyam Verification Status
If you have applied for Udyam Registration verification, but did not obtain the Udyam registration certificate immediately so you want to know how to check your Udyam Registration Status Online. Here's a small guide for your Udyam status-checking process.
To prove that you are a legal customer of Udyam MSME then it's compulsory to have your Udyam registration verification.
Create your Udyam Verification through our website easily.
Visit the web portal, make a login there, and visit the Udyam verification page. Complete your verification procedure.
If you have already verified in Udyam then just sign in and track your Udyam registration status check.
Who are we?
For all your account registration work, we are business-scale private consultant experts who provide Udyam with a registration service provided through our registration portal. No entrepreneurs in their registration process will have to encounter any type of obstacle. Please clarify at @udyamregistrations if you encounter any difficulties updating your Udyam registration certificates then we'll be in constant contact with you.
To stay tuned, for updates and other issues, visit us at udyamregistrations.org.
Contact us at any time on our Facebook page at udyamregistrations.org, and check our FB page to find out all about our programs.
Frequently Asked Questions for Udyam Online Verification:
1. I currently made my udyam registration certificate and want to check my udyam verification online. Is it possible or else it will take time?
It takes 2-3 days time as we need to verify your personal details with the registration details.
2. I have verified my udyam registration certificate but I found a small spelling mistake. Can I edit it?
Yes, you can edit it through a simple procedure provided on our udyamregistrations.org website. Complete the details asked in the form and update your details.
3. I forgot my UAM/ URN Number. How do I verify my udyam verification?
You will find a "forgot UAN/ URN" section on our website. Visit it and select the UAN or URN number that you want to get then enter the registered mobile number and generate validate Otp print. Once you put the Otp, you will easily get your UAN/ URN Number.
4. Do I need to sign up again for udyam verification?
No, you only require a small login and you will be directed to the Udyam verification page and will be checked online.