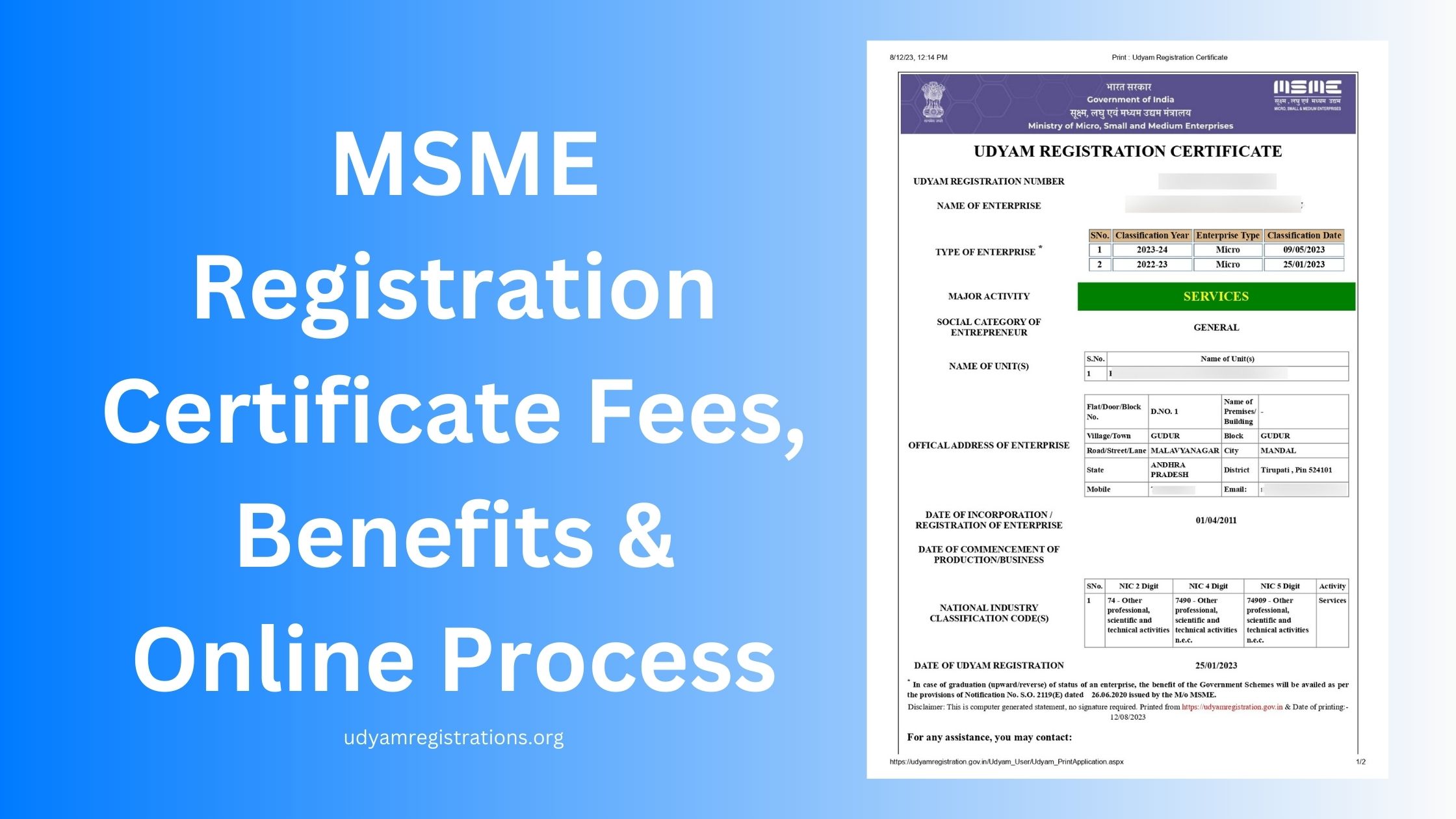 MSME Registration Certificate Fees, Benefits & Online Process
https://udyamregistrations.org/Here we have discussed in detail MSME registration, its process, full form, schemes, fees, and benefits for small, startup businesses in construction, trading, and manufacturing. Check the new definition of MSME, and know the difference between the old and new.
Why MSME Registration?
MSME registration is a type of registration that can be done for any type of business entity. In India, such registration can be done by One Person Company, LLP, PLC, LC, Proprietor any association of persons, or any type of cooperative society.
What is the Full Form of MSME?
As per the Central, Government MSME stands for Micro, Small, and Medium Enterprises. The companies which are registered under MSME can enjoy a lot many benefits under the Development Act 2006. Companies in order to enjoy the benefits and functions more should register under MSME.
The Government of India provides various packages for the once registered under MSME.The package for the MSME sector. During the situation of crisis, the government is looking forward to announcing a relief package from the MSME sector. The companies can avail of this benefit only if it has registered themselves under MSME.
As per the notification issued by the Ministry of micro-small-medium Enterprises on 1st June 2020, MSMEs will now be known as Udyam. And the registration process for an organization as an Udyam will be called Udyam Enrollment Registration. The Government Udyam Registration portal is a self-declaration basis portal without adding or uploading any document/ certificate/ paper.
MSME schemes launched by the Government are:
The central government is launching many schemes in order to help small-scale businesses towards growth and development.
Prime Minister Employment Generation Programme(PMEGP)
Credit Guarantee Trust Fund for Micro & Small Enterprises (CGTMSE)
Interest Subsidy Eligibility Certificate (ISEC)
Market Promotion & Development Scheme (MPDA)
Domestic Market Promotion Scheme (DMP)
Eligibility Criteria for applying for MSME registration
Under the MSME of 2006, only those entities can apply for MSME registration, which is classified as micro small, or medium enterprises. If the entities are engaged in the manufacturing or production of goods or providing any service, can apply for MSME registration.
The MSME's new definition states that
Earlier, the MSMEs were defined on the basis of investments put in, now the revised definitions will also include the turnover of the company.
Minister of Finance of India - Nirmala Sitharaman also declared that there will be no more distinction between Manufacturing and Service MSMEs. Union Cabinet approved the MSME amendment and executed it on 13th May 2020.
MSMEs will now be called Micro units if they have investments up to Rs 1 crore and turnover of less than Rs 5 crore. Small units if they have investments up to Rs 10 crore and turnover of less than Rs 50 crore. Medium unit if they have investments upto 50 crores and turnover of less than 250
Revised or New MSME Classification
| Enterprise | Turnover | Investment |
| --- | --- | --- |
| Micro | Not more than 5 Cr. | Not more than 1 Cr. |
| Small | Not more than 50 Cr. | Not more than 10 Cr. |
| Medium | Not more than 250 Cr. | Not more than 50 Cr. |
Existing MSME Classification
Manufacturing Enterprises
Micro: Investment Less than Rs 25 lacs
Small: Investment Less than Rs 5 crores
Medium: Investment Less than Rs 10 crores
Service Enterprises
Micro: Investment Less than Rs 10 lacs
Small: Investment Less than Rs 2 crores
Medium: Investment Less than Rs 5 crores
The new notification by the Central Government of India, every micro, small, or medium business unit registered under MSME / Udyog Aadhaar shall be treated as a valid MSME up to 31st March 2021.
So all existing MSME Companies must register/convert on or before 31st Mar 2021 to enjoy the MSME Benefits.
Any micro, small, and medium industries, if want to start any business, are required to do their Registration with MSME through Udyam Registration Portal. Registration with MSME on the Udyam Registration website can be done online.
Getting a small micro medium business registered under the Indian Ministry of MSME results in several subsidies and benefits.
MSME Registration benefits
There are numerous MSME benefits of registering and getting an MSME certificate for your business, here we have mentioned 16 benefits of MSME registration.
These benefits are listed as per the schemes offered by the Ministry of MSME for the development of micro small and medium business enterprises in India. The same benefits can also be availed by the MSME registration certificate holder and prove to be advantageous for them.
Interest rate Subsidy on Bank loans
Collateral-free loans from banks
Protection against delayed payments, against material/services supplied
Special beneficial reservation policies in the manufacturing/ production sector
Ease of obtaining registrations, licenses, and approvals.
MSME Registered entity gets eligible for CLCSS (credit linked capital subsidy scheme)
International trade fair special consideration
Government security deposit (EMD) waiver (Useful while participating in tenders)
Electricity bills concession
Stamp duty and registration fees waiver
ISO certification fees reimbursement
Direct tax laws rules exemption
NSIC performance and credit rating fees subsidy
Patent registration subsidy
Barcode registration subsidy
Industrial Promotion Subsidy (IPS) Subsidy Eligibility
The registration fee for MSME
Here you just need to pay a limited amount of rupees 2700 and get yourself registered under MSME. Hereby just paying a limited amount you can avail the benefit of registering yourself under the guidance of an expert.
What is the MSME Registration process online?
The process for MSME Registration is simple and easy to follow.
Step 1: Visit the MSME Registration portal website.
Step 2: Fill in all the required details on MSME Registration Form. Make sure to enter all the details correctly.
Step 3: After entering the details make the online payment for your MSME Registration Application.
Step 4: One of the registration executives will process your MSME registration process application.
Step 5: In 2-3 working hours you will receive your MSME registration certificate at your registered email address.
Where to apply for MSME Registration?
Visit our MSME registration website where you can register yourself here is the link: udyamregistrations.org. Our website is very simple and easy there is no MSME login process, just fill out the form and the process is done with a few clicks.
This is the site that helps you to register your business with ease for registering under MSME. The website offers you an MSME registration certificate after getting a process service fee.
If you want to apply MSME registration for then go and apply here it comes to register under MSME the entities need to apply for it. If you are willing to register yourself under MSME.
Here we are to help you overcome the problem of registering yourself. We can help you solve all your queries regarding MSME registration for construction, trading, or any kind of business.
When it comes to MSME registration for small businesses, why worry about the process? Why wait for long to get your registration? Why worry if you don't have any documents? Just be with us and we will make things easier.
Here udyamregistrations.org is a private iso-certified consultant offering registration services to help you to do MSME registration. We are the ones sitting here for you to help you grow your business and make you avail the benefits given by the government for your entity. We are a team of experts sitting here to help you get register yourself under MSME. This will be additional support for you and will help your company grow.
You can choose and can fully trust us with the process of registration of an entity. When we are here you don't even have to worry about the documents which you don't have. You don't even need to search and disturb yourself in the process. Just tell us and our team of experts will make the process of your MSME registration certificate simple to download.
How can you contact us?
Whenever you think of registering your company under MSME just come to our site https://udyamregistrations.org/ and contact us. The team of experts will be available for you. Just tell them the problem and they will help you sort it out.
udyamregistrations.org enables small business registration under micro, small, and medium-sized entities. Fill up now and supercharge your business with udyamregistrations.org.